In order to respond to the increasing demand for lifting equipment, such as the production of various types of crane, And also has after-sales service.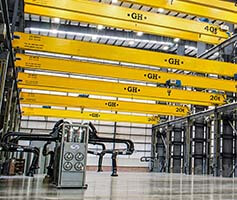 Overhead Cranes
Overhead Crane is normally used in a factory, with some of them being able to lift very heavy loads. Larger overhead cranes can be found in use in shipyards and large outdoor manufacturing plants. The hoist is set on a trolley which will move in one direction along one or two beams, which move at angles to that direction along elevated or ground level tracks, often mounted along the side of an assembly area.
Jib Cranes
The Jib Cranes can be fitter with chain or wire rope hoists, in low headroom or normal headroom configuration.High precision achieved in manual or powered motorized movement. Industrial Jib Cranes from 500 kg to 20 ton.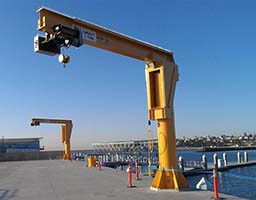 Gantry Cranes
Gorbel's Fixed and Adjustable Height Steel Gantry Cranes provide an economical way to lift materials anywhere in a facility. The wheels enable you to move the gantry around your facility and is a more cost-effective solution for areas of infrequent lifts than a more expensive permanent structure.
Mobile Cranes
Mobile Cranes are the most standard and versatile type of crane used in construction and industry today. The mobile hydraulic crane consists of a steel truss or telescopic boom mounted on a mobile platform, which could be a rail, wheeled, or even on a cat truck. The boom is hinged at the bottom and can be either raised or lowered by cables or hydraulic cylinders.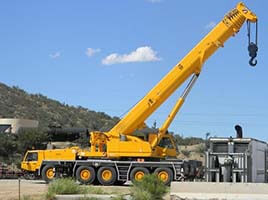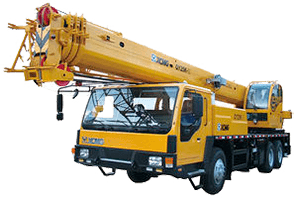 Telescopic Crane
Telescopic cranes offer a boom that consists of a number of tubes fitted one inside of the other. A hydraulic mechanism extends or retracts the tubes to increase or decrease the length of the boom. Most construction cranes today are in some form a telescopic crane. Except for the lattice boom crane with is a iron constructed frame that is bolted together to get the right height for the hoist.
Tower Crane
The tower crane is a modern form of a balance crane. When fixed to the ground, tower cranes will often give the best combination of height and lifting capacity and are also used when constructing tall buildings. Some large tower cranes will reach up to 1000 meters high! With an average floor dimension of a high rise equaling 3.5 meters/floor.